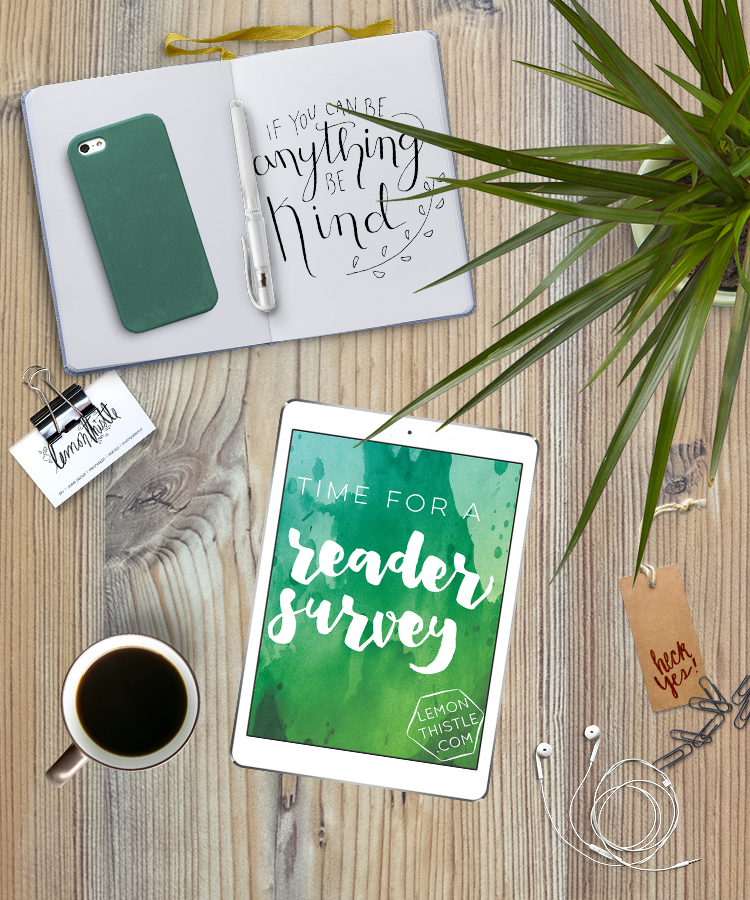 *CLOSED* WINNERS CONTACTED 02/15/16
It's that time again! Last year I created my first ever reader survey to try and get to know you, my awesome readers, a little bit better and I was BLOWN AWAY with how rad you all are. I loved hearing what you like and don't really like, and what you want to see here on Lemon Thistle. SO, I thought I better do it again.
I need you all to know how incredibly grateful I am for you- reading, emailing, commenting, subscribing, sharing, and even testing out my DIYs (I love the photos you send me!). Without you, Lemon Thistle wouldn't be here- or at least, it wouldn't be so fun. I so value what you have to say and wanted to give you an opportunity to anonymously give me some feedback.
To thank you for completing the survey (because really, thank you!), if you choose to enter your email you will be entered in a giveaway for one of two $20 Amazon GCs. Remember that even if you enter your email, the survey is anonymous and your results won't be stored with your email (pinky swear). And just so you know… when I ask for your feedback, I mean it. Please answer candid and honest. I really want to grow and be better. I'd love if you helped me with that! What do you like/ what don't you like so much/ what do you want to see?
The survey will be open until February 12th (2 weeks from today!), so hurry and have your say!