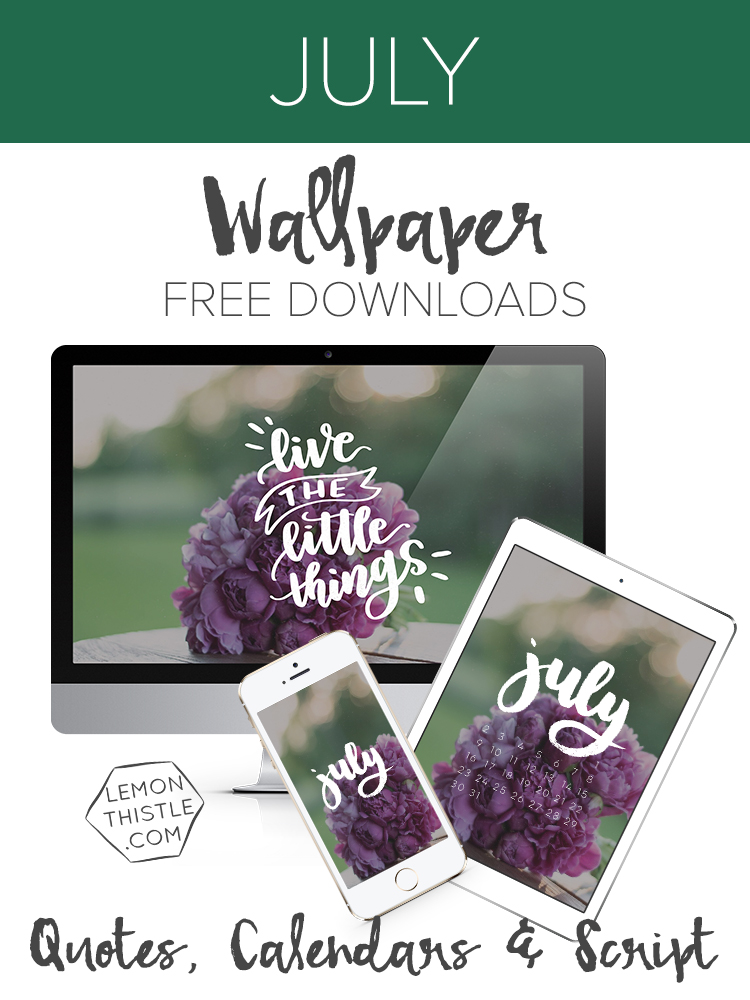 July is this weekend and whether you're celebrating Canada Day or Independence Day, I hope you have some patriotic fun planned. We've got a couple family barbecues and we're working on one of our biggest DIY projects. And when I say 'we'… besides picking the colour- this one is all Shane. We're re-siding the house and I can't wait to see how it comes together!
Alright, on to the tech wallpapers! I am SO excited to be trying something new and partnering with an amazing Canadian blogger for these wallpapers. Laurie from Vin'Yet Etc. is a rad DIY blogger but she's also a great photographer– I love following her on Instagram for all her nature (and endless peony!) photos and asked if she'd be interested in teaming up for wallpapers this month. I would love if you guys gave her some love for this gorgeous photo!
If you're new to Lemon Thistle, every month, I create free handlettered backgrounds for you to download. I make each a quote version, a calendar version, and a monthly script version in each desktop, phone, and tablet sizes. You can take your pick! I also create a free printable 8×10 version of the quote for my e-mail friends. If you're not yet signed up for my list, you can get in on the updates and freebies right here!
Oh! I also wanted to mention that I'm having so much fun playing with my new iPad pro! A few of you asked last month how the lettering looked so crisp and it's because I did it on there. I still am scanning in a lot of my lettering but it's fun to try this way as well. Are you interested in learning about iPad lettering? If so, I'd be happy to share and plan some posts around it!
Ready to snag your fave of the handlettered backgrounds? Just click the linked words to download them.

QUOTES:
CALENDAR:
SCRIPT:
*If you are using the iPhone or iPad backgrounds, they are designed to be used with perspective zoom OFF. To turn it off pinch the screen to view the entire design (when you're adjusting the positioning) in the same way you'd zoom out or if you have the updated OS hit 'Still' and adjust*
You can check out all the wallpapers in the series here– the quote backgrounds are great year round!