I can hardly believe that it's been two whole years since I started blogging! Time flies when you're having fun, right? That or having babies/toddlers makes time fly even faster ;) Last year when I celebrated being around for one year, I knew that I was loving this whole blog thing, but didn't know that a year later this would be how I'd be spending almost every minute of naptimes and babysitter hours.
I'm so incredibly thankful for all your support- because without you I'd just be writing to myself (and you're much more fun to talk to!). To show you guys how much I love ya, I'm devoting this whole week to giving you things for free. Wouldn't it be nice if every birthday party included gifts for the guests?
I have some really exciting giveaways lined up for the week, I hope you'll love them all as much as I do! Today I'm kicking it off with one of my own- I'm giving away three copies of my Mini E-Course, Never Run Out of Ideas Again! This e-course has been around for a while now (thank you all so much for the great feedback!) and I've put off raising the price longer than I'd planned, but when the giveaways over, the 'introductory price' (haha, it's been months!) will be gone.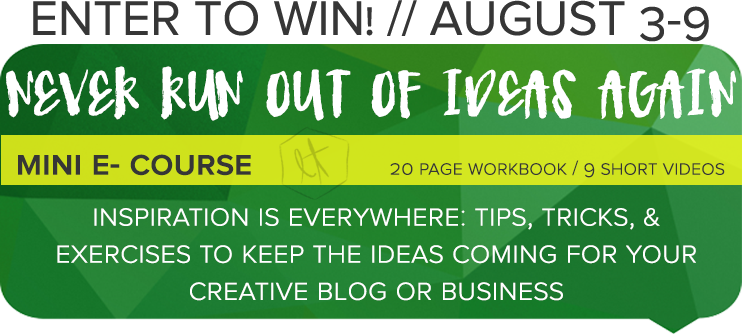 This Mini E-Course includes 9 short videos, full of real-life examples, and a 20 page workbook for you to fill with your own ideas. By the end of the mini course, you should not only have a workbook filled with fabulous inspiration- but strategies in place to Never Run Out of Ideas Again. SO if you're a creative, blogger, or anyone that is constantly stuck looking for ideas- this mini-e-course is for you.
Get your name in below to win one of three and if you're wanting to learn more, you can hop over and check out all the info here. If you decide you want to jump on the intro pricing before it's gone and you end up winning? I'll send you your money right back :)