A free printable 90 day tracker specifically for the #last90days challenge with Rachel Hollis and Dave Hollis.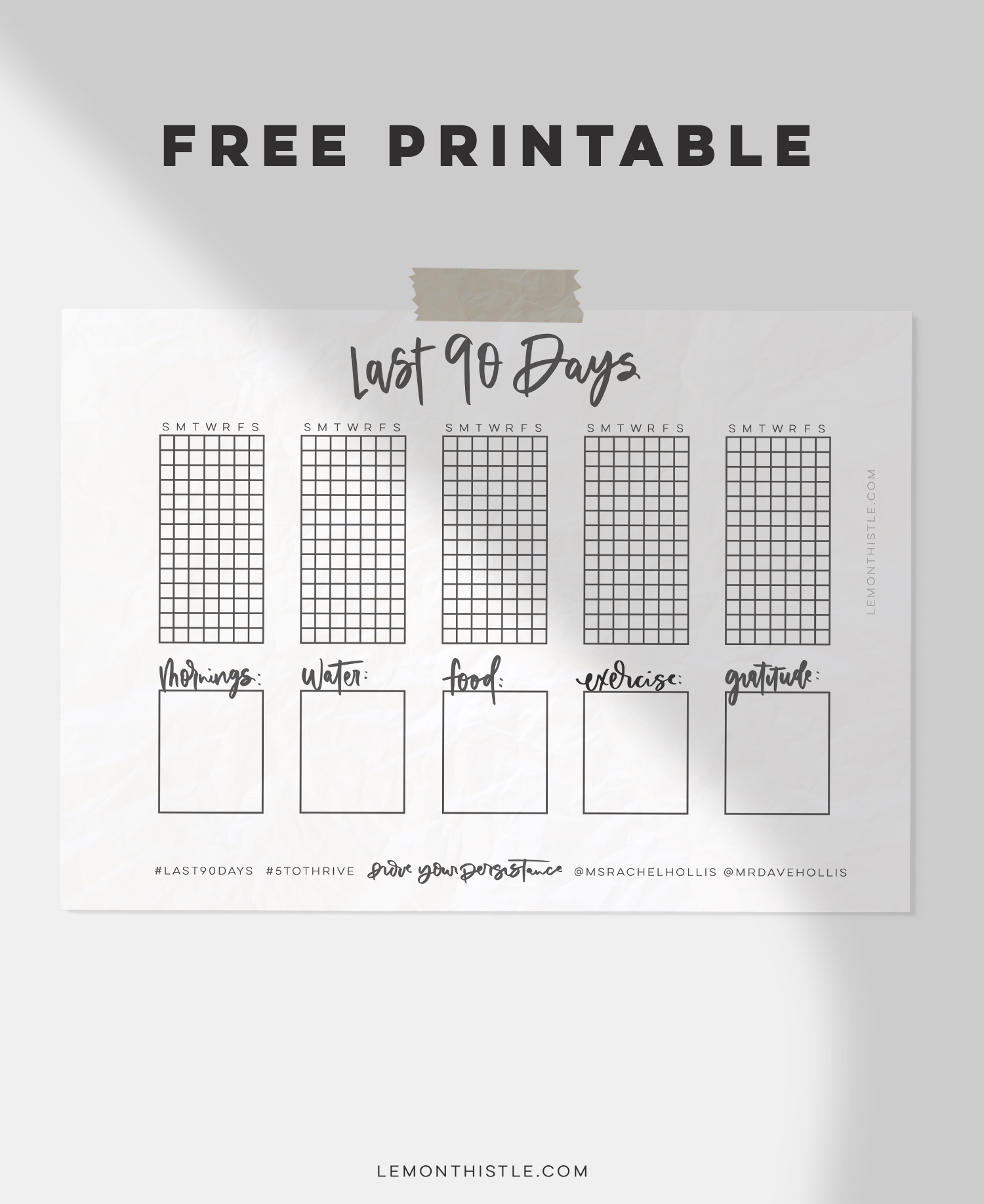 Today's October 1st… the first day of the #Last90Days. Have you heard of that challenge? It's a Rachel Hollis challenge to make lifestyle changes in the last 90 days of the year so that you're on a roll when it comes to the new year. It takes you through the busiest and hardest season and for me is a total challenge. I started with it last year but by the holidays had forgotten about my commitment. This year, I'm determined to do better. So I made myself a printable tracker (I needed more than just my 30 day one!).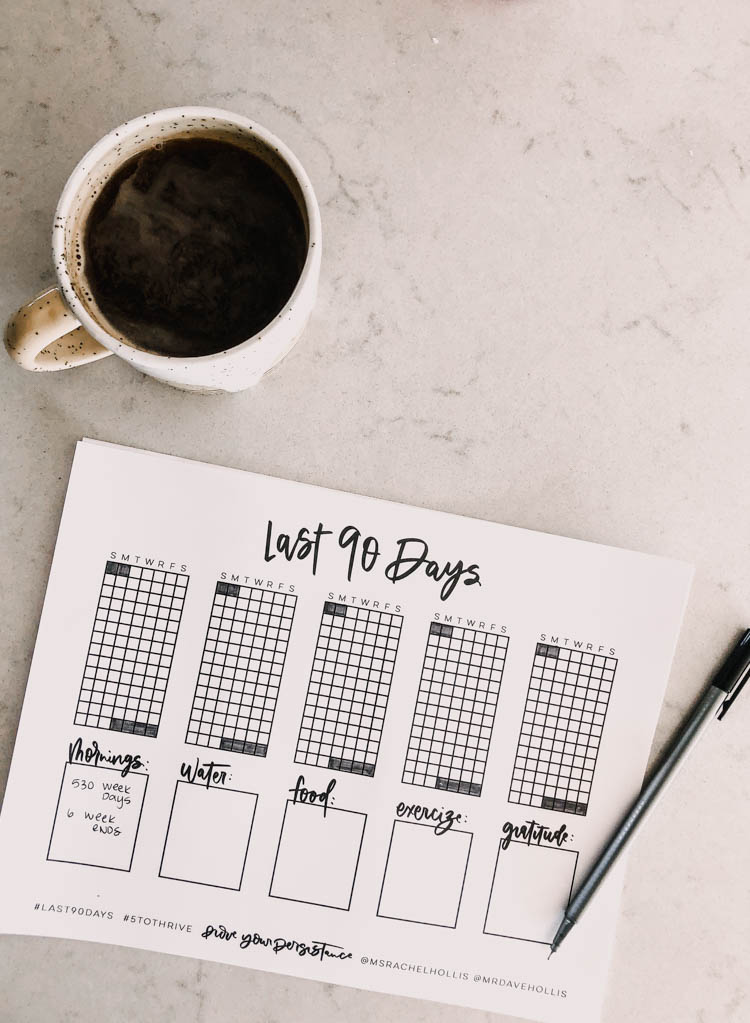 The 90 day challenge has 5 elements (5 to thrive): drinking half your body weight in ounces of water each day, waking up an hour earlier and taking that time to yourself, 30 minutes of exercise/activity each day, writing 10 things you're grateful for each day, and giving up one food group/type of eating. All good things, right?! But hard. For me, anyways ;)
So since I couldn't find a tracker I loved and wanted to have on my fridge, I took that first early morning (today!) and made myself my own tracker. Ha! And wrote a blog post for it. So if you'd like to track your progress in the last 90 days along with me…
Friendly reminder all free printables are for personal use only (so…don't resell them, k?)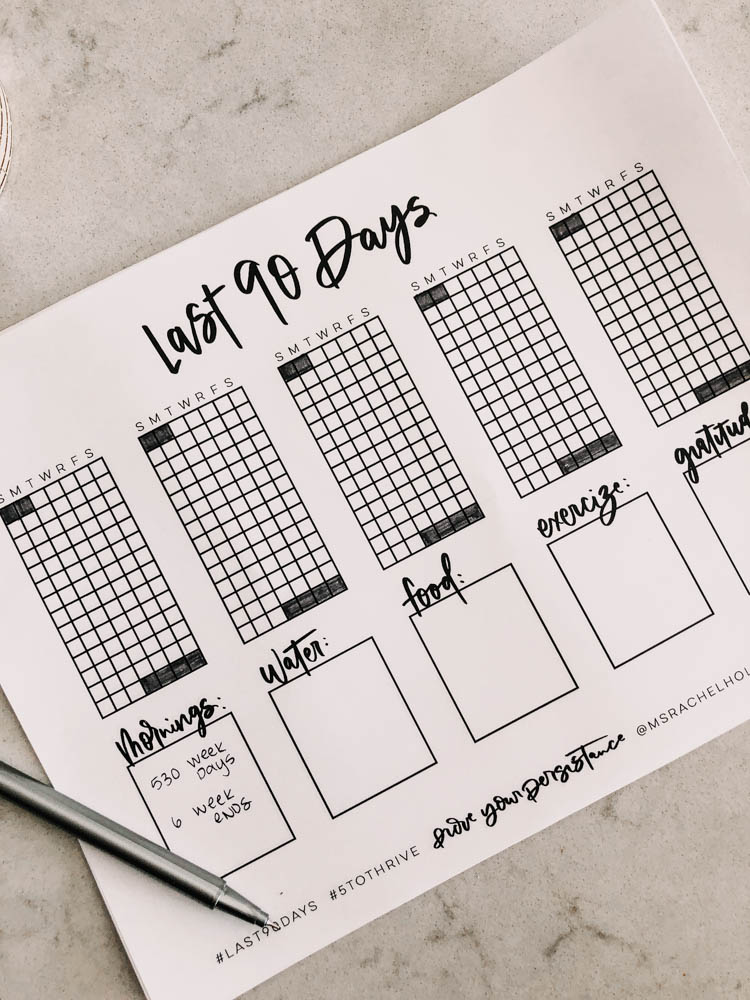 I chose to line it up by days of the week so that I could see which days I struggle with most. Are weekends where I fall apart? Our busy day with kids- wednesdays? I also wanted to see my page get more and more filled in towards the end of the challenge. It'll be like an ombre dream, at least that's the goal ;) I know that I won't be a perfect blackout for this challenge but it's more about making lasting changes for me- not winning a challenge. But I sure do like checking off boxes! I also added a place for you to detail your goal. How many ounces of water? What time will you be waking up?
SINCE it is weeks lined up, you'll need to colour in the ones that are not a part of the challenge. When I do this and get a photo in daylight I'll post it here too. Just black out the first two days and the last 4 days on each set for the 2019 challenge.
Want to sign up for the challenge (they send you emails and videos for support, do that RIGHT HERE! And then tell me! And tag me in your tracking on social (@colleenpastoor) so we can cheer each other on! Goodness knows I'll need the support ;)