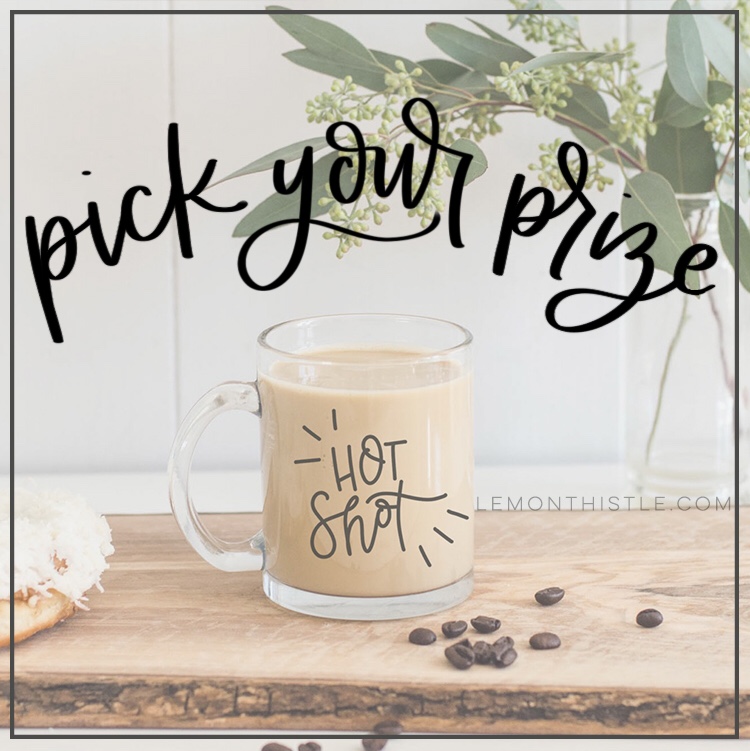 In August, Lemon Thistle turned 4 years old… but I totally missed it's birthday and did absolutely nothing to celebrate with all you! So I decided to move the celebration to THIS week when I'm celebrating my actual birthday! This week, I'm turning 28 and thought a week full of giveaways would be the perfect way to celebrate! I have products I totally love, gift cards, and even some special hand lettered goodies for you this week- I know you'll love the prizes as much as I do.
Today is the FINAL DAY of my birthday week of giveaways! And it's a BIG sneak peek of what I've been working on… my products shop! I've been busy working away on an online shop and today's giveaway will be for any product you choose from that shop. And they're all pretty rad if I do say so myself. 

It's not tooootally ready… there's more products I'm working to add BUT it's getting close! I'll be 'officially' launching it next week, but I really wanted to do a giveaway for you all this week. If you win this one- you can pick your prize… any one thing from the shop! I'm currently only able to ship to Canada and the US from my manufacturer BUT if you want to enter and are international… I would happily substitute any file from my digital prints shop over on Etsy.
Ready to get your name in? Just follow the instructions in the Rafflecopter below! Then make sure to hop around to the other giveaways and get your name in to those too!!
a Rafflecopter giveaway