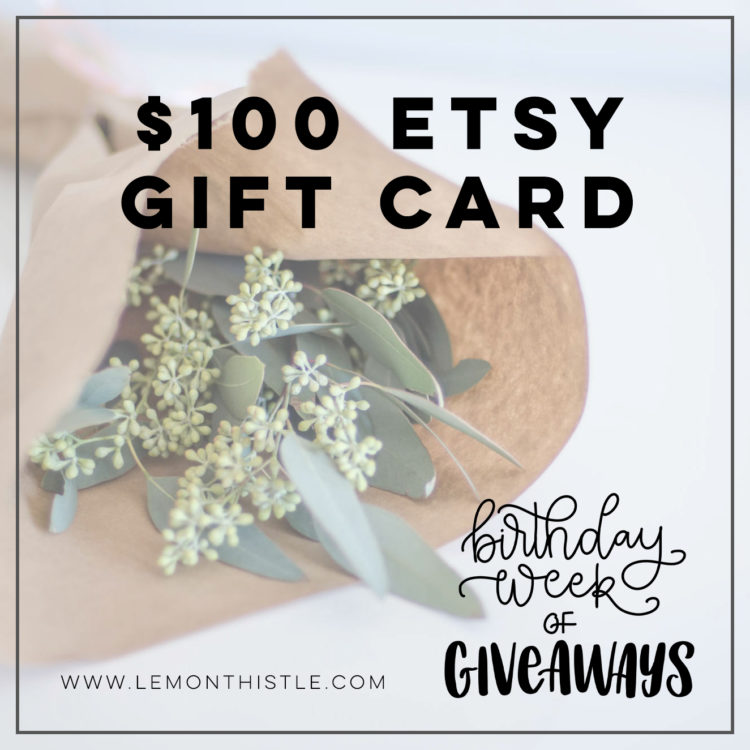 In August, Lemon Thistle turned 4 years old… but I totally missed it's birthday and did absolutely nothing to celebrate with all you! So I decided to move the celebration to THIS week when I'm celebrating my actual birthday! This week, I'm turning 28 and thought a week full of giveaways would be the perfect way to celebrate! I have products I totally love, gift cards, and even some special hand lettered goodies for you this week- I know you'll love the prizes as much as I do.
I hope you're enjoying the giveaways we're having this week! Today is the halfway mark… Day 3! Today I'm excited to be partnering with Etsy for a $100 Gift Card (cue the confetti!). I've been a buyer on Etsy for YEARS, you guys (9 years according to my profile) and I've been selling digital products there for almost 3. If you haven't been on Etsy (where in the world have you been?)… it's an online marketplace for handmade and vintage goods. It's like a giant shop of a bunch of tiny independent shops (like me!) and I will never not have a long wishlist of goods that I've found by browsing.
I'm not going to lie… I'm a little jealous that I can't win this one because my wishlist is getting pretty long. But I'm excited that one of you will have the chance to order something(s) completely rad! I hope you show me what you pick ;)
You can go ahead and enter this giveaway in the Rafflecopter below! As with all these giveaways, they are open for 1 week! Good luck. XO
Like what you see?
Sign up to receive a once-a-week newsletter from me with new posts, exciting updates, exclusive discounts and freebies. Just good stuff!