Top of the morning to ya (Yes, I just said that- I'm a few cups of coffee in). I'm back to share  what I've been up to this month and it's been a big one! First, can I thank you for taking the time to be here? I'm ridiculously excited that people actually read this thing and so humbled that you take the time to let me know what you're thinking. Honestly- the best.
Blog-wise this month has been my biggest (that's how it's supposed to work though, right?) I've been feeling so excited about it I've actually started telling people around me I blog. I know, get over it! I can't believe I'm telling you this, but I've actually invited friends to a party and been running around with my camera and when they ask- I don't even tell them that it's all for this little blog I write. When Ashton shared the post I wrote about Bespoke on her Facebook, a few people found out, but now the beans are spilled. Let's just say I'm slowly coming out of the crafting closet. This month, I was lucky enough to blog over at Crafty Allie and share how to make a cute little cork chalkboard- it's on my mantle right now and I love that thing.  Also this week, Julie at On The Dot blogged about my Pinterest board Perfect Parties and how to choose your cover images. Apparently I'm doing something right with that, and all this time I thought I was just making it look pretty! And today? Kayla over at Home Coming is featuring my Hardwood Floor rehab on her Feature Friday. The renos that Kayla has done are Ah-mazing, if you're into that sort of thing. All awesome, am I right? I'm feeling so blessed by you guys. (I bolded those two for you because they're new news so if you've got a minute, please head on over! And maybe if you have two minutes, leave them a kind word for me? Thanks- you're the best.)
A couple other changes you might have noticed- I've been linking into some great parties (that's the list at the very bottom of my post- thanks to Kayla for explaining this to me!) and I've started posting 3x a week because I had so much more that I wanted to share than just twice a week! So far, I'm loving getting to chat with you all more often. The more excited I'm getting about this blog thing, the nerdier I'm getting too… I've been spending my free time (aka- baby naps) reading up on SEO and blogging tutorials. Know of any good reads? I'd love to hear!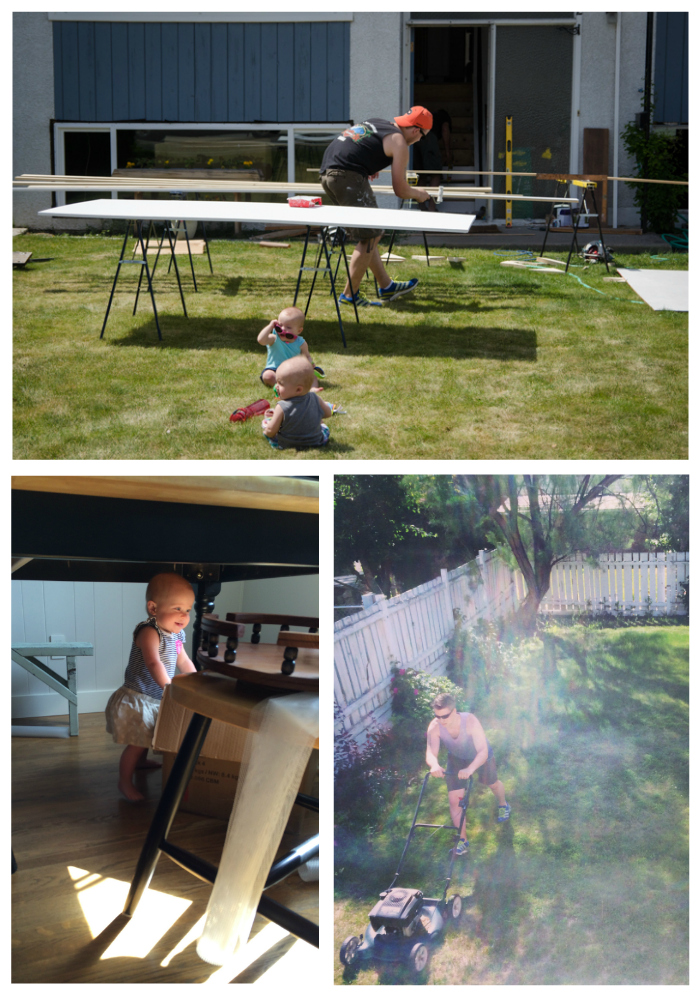 As for my real life? We've been ever-so-slowly chipping away at all the projects we have left to do. Since moving in we've gotten about 95% less done each day. Something about having babies underfoot is a real distraction. Who can resist the cuddles? See that picture up there… They're always watching, calling for you to take a break and tickle them. No-one (especially grandparents) can say no. I don't blame them, I usually get to be the baby entertainer during work days although I'm not sure how I always seem to score the best job (mom-win).  They like to help when we're painting by climbing the sawhorses, and they help unpack by dropping their toys in the boxes… it's so nice of them to help, really. Plus, we've had to deal with home-owner stuff, like mowing the lawn and fixing leaks (oh, the leaks). But projects are slowly getting done- our stairs are SO close, I can't wait.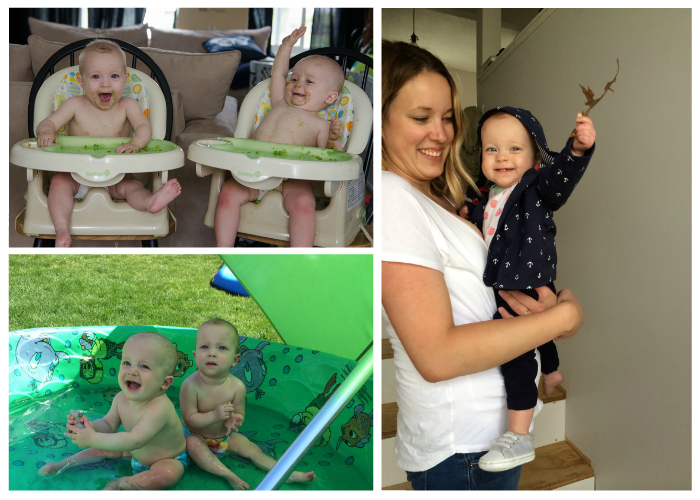 Speaking of babies, Emmitt and Aubrey are nine months old! Nine! I can't believe it. They're not little any more. We were so happy to welcome a new niece to the family this week (don't worry, I'm not spilling the beans- it's Facebook official), and I can't remember E and A being that small. It's so surreal. They chatter and laugh with each other, they climb things and are walking along furniture, and they're eating real food with us! Now that they have a taste of the good stuff, it's impossible to get them to chow down on rice cereal, which I remember to be much less of a mess. But with them growing, they love to play outside now- it's such a treat to get out and enjoy the sun. I love this picture of Aubs and I- she's so proud of the leaf she found.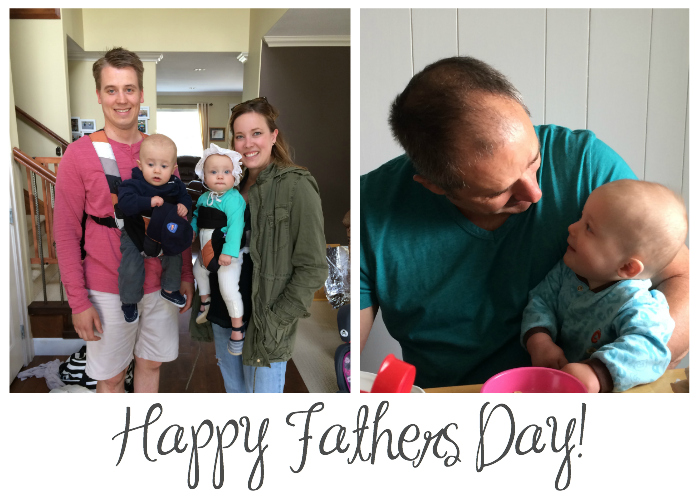 Lastly- I had to show off this picture of Shane and I on our Fathers Day walk with his Dad… for the first time ever he wore a carrier. I'm so proud of him- he's always insisted men don't wear carriers, so I'm always showing him photos of men wearing them and I wore him down! Plus, here's my Dad and Emmitt eating brunch on Fathers Day. My kids are pretty spoiled by all the men in their lives.
Well, I'm off to enjoy the sun! Our new house is way too close to Starbucks for my own good- with the sunny weather I've been walking there more than I should. I justify it by the walk. I'd love to hear… how has your month been? Know of any good blogging articles? Leave them in the comments, I can't get enough right now!