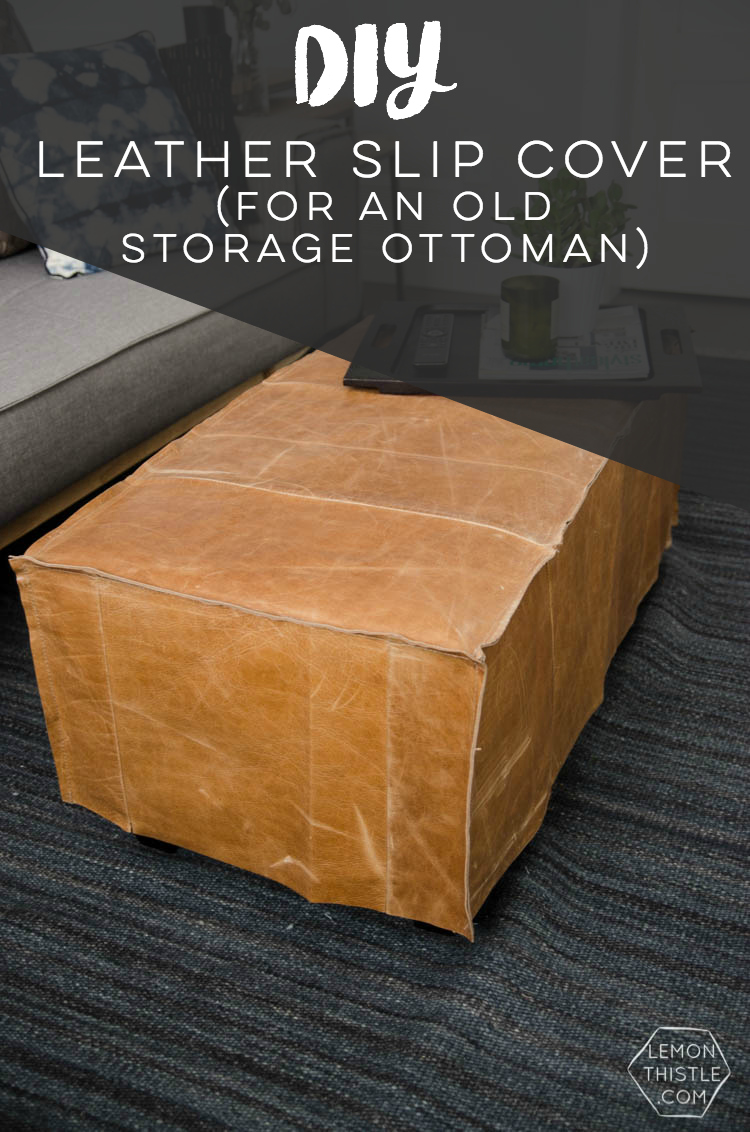 Remember when I shared my Rec Room Reveal with you all? That was a while ago now, and it's looking a LOT messier than it did then… but I am finally getting around to sharing the DIY instructions for that leather slipcover! This leather slipcover is for an old storage ottoman- you know the kind… dark leather with lighter stitching and square brown legs, probably ripped from putting your feet on it over the past ten years. This is the MOST asked for tutorial from that whole space and I am going to be honest with you: I didn't really document the process well. I'm not sure why I thought- 'I made a slipcover out of salvaged leather' would be a good enough explanation for you all. I mean… I spent probably hours researching tips to sew leather and to see if this was even possible to make. So today, even though I don't have a ton of how-to photos for you… I'm going to give you all of my tips that I've learned sewing this baby (and a couple other leather projects I'll share soon!).
But before that… can I just talk about how handy this is?! Ottomans and coffee tables are expensive! And the prettiest ones (I think) don't have much for storage. If you have one of these old storage ottomans sitting around, this is such a great way to update it without it losing it's storage function. I will say that it's not the most convenient to get into (you have to pull the cover off, then open it. BUT I don't store everyday items in there anyways, it's full of photos and stuff that I want to keep but don't need out. I originally had planned on making a couple leather pouffs to go here- I love the look of these ones– but I've made pouffs before and that requires a zipper and a ton of stuffing and did you know that stuffing is expensive?! Plus then we couldn't have set our drinks down on it while we're watching TV how we do now. Did I mention losing the storage wasn't appealing? This was the perfect quick fix. Alright… let's get to the DIY!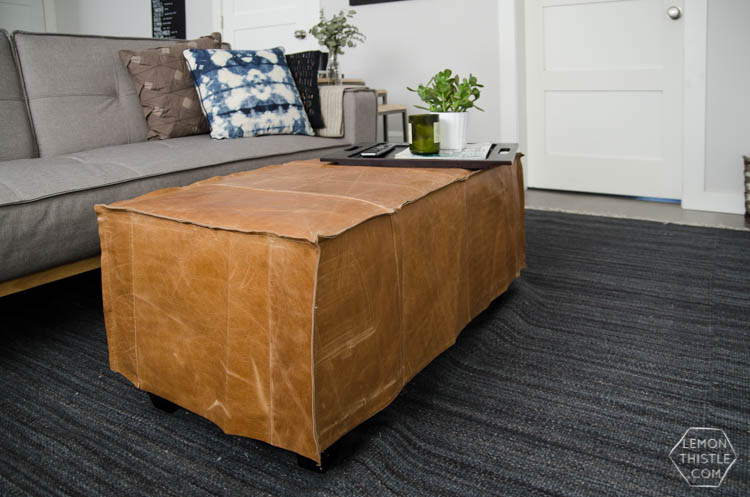 The first thing you'll notice is that the leather is pretty beat up. That's because it's salvaged. And salvaged means free ;) I scored an old couch off of Kijiji and skinned it for all the good leather. I still have stacks of the stuff, you guys! I'm not going to lie… moving a giant couch and cutting all the leather off of it wasn't the easiest thing I've ever done but it was sooo worth it. I left the detail seams in the leather- the seams that separated the three 'cushions' on the back and front of the couch. That's the seams you see on the top and sides of the leather here. See how nice and straight and flat they are? None of that was me ;) Since the leather came off of the couch with those seams, I could use the larger pieces of leather and didn't have to piece anything together for it.
Okay… so here's my best tips for sewing leather: