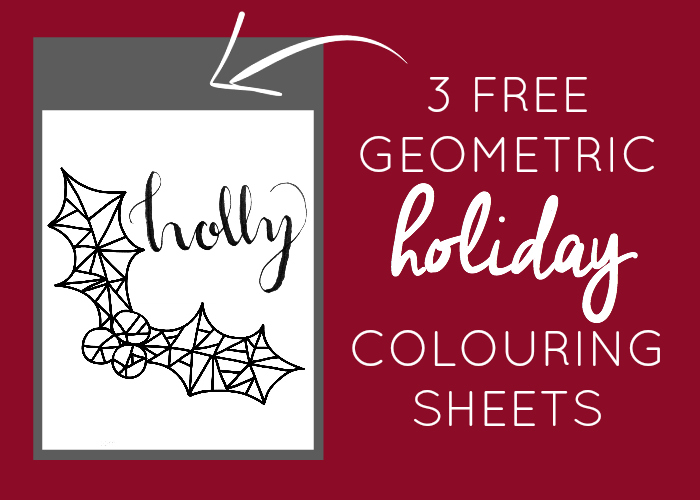 I'm sorry to my American friends who haven't had Thanksgiving yet… but us Canadians have not only had Thanksgiving, but a lot of us have even seen snow. So 'tis the season and I'm starting it off with some geometric fun! Ever since I created my BOO! Geometric Ghost printable for Halloween, I've been dreaming of some Christmas versions. When Plumb Goods approached me to support their #artbreak campaign to raise money for 826 National (reading/writing centers for underprivileged kids & youth), I thought it would be fun to turn the printables into free colouring sheets for you. So before I share them with you (and a fun giveaway) I thought you should know that for every tweet, Instagram photo, or Facebook post including #artbreak, Plumb Goods will donate $1 to 826 National.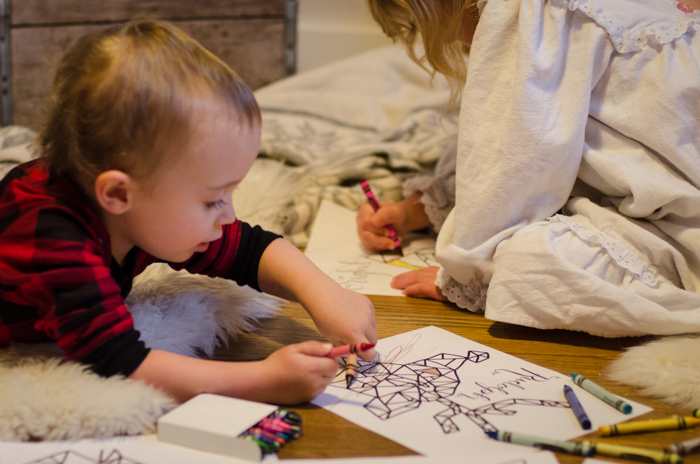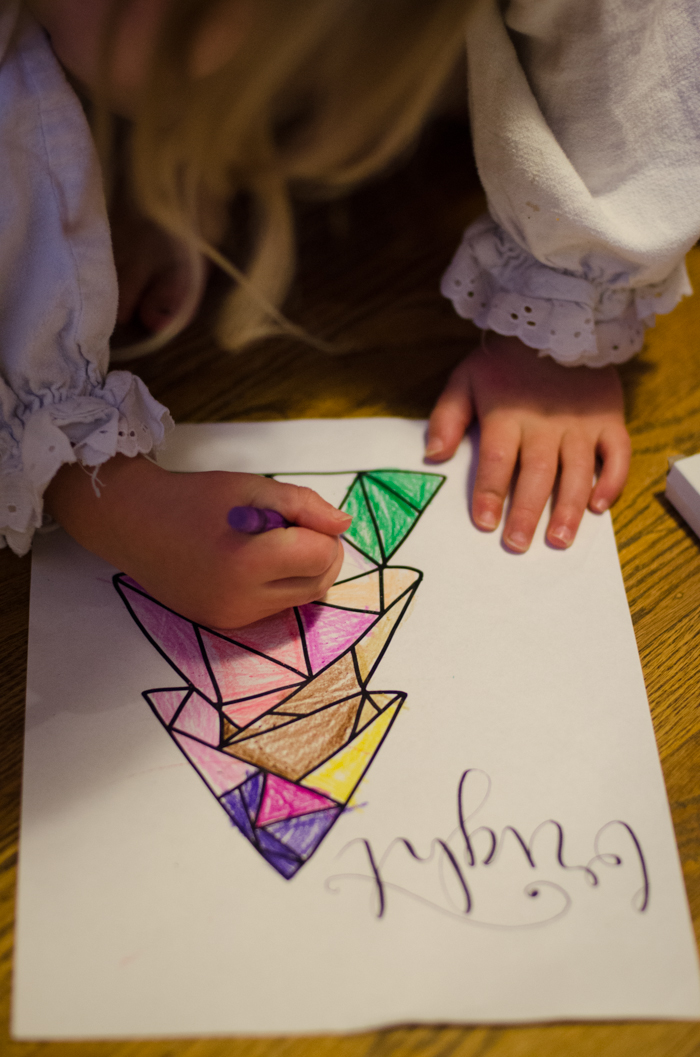 What the heck is an #artbreak, am I right? Here's what they have to say:
At Plumb we love doing creative activities because they inspire our minds, hearts, and imaginations (plus, they're fun), but we've also learned that taking an #artbreak for as little as five minutes a day provides many of the same benefits as meditation: it boosts immune system functioning, reduces anxiety and stress reaction, aids healing, and, of course, increases creative growth. And there's no reason why you have to stop after five minutes if you've got the time, so after a few months, before you know it, you might just have finished that novel.
Pretty cool, right!? And I always thought my doodling was a time waster, but really I'm just reducing my stress (win, win). Anyways. I came up with three colouring sheets for you all to print off and colour by  yourself or with your fam jam. My favourite is definitely the reindeer. And to thank you for spreading the message (because I know you'll send out a tweet or two), Plumb Goods is giving away a suite of notebooks to Lemon Thistle readers. And guys, they're good. I got to pick the ones you'll win and guys, I picked good!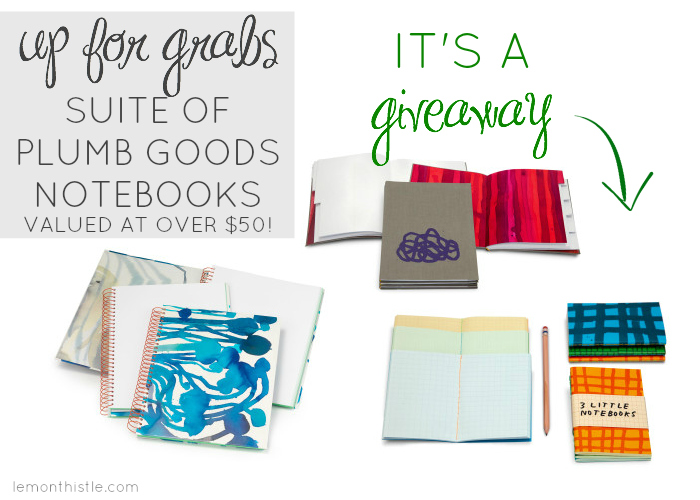 Up for grabs is a Spiral Journal- this thing is chunky and has the best quality unlined pages. I've been addicted to drawing in it since it showed up, it is huge and amazing. It's actually where I sketched out these printables. Also, a three pack of mini notebooks- they're so cute and the perfect size for purses or wallets. And what makes me love them even more is that they have grid lined pages (that's hard to find!). Last is the Tangle notebook (the grey one) which is a dream for organize-happy-geeks (me) because it not only has tabs built in, but the pages are sectioned for lists and such. I've been using one side to make a list and the other for notes about the list/ updates. You can check them all out here.
Okay, so you've gone ahead and entered? Awesome, and if you still want one of your own and you don't win… Plumb Goods has been sweet enough to offer us 20% off. Just enter the code: LEMON20 at check out. Plus, I noticed that they have free shipping on orders of $40 or more right now (bonus!).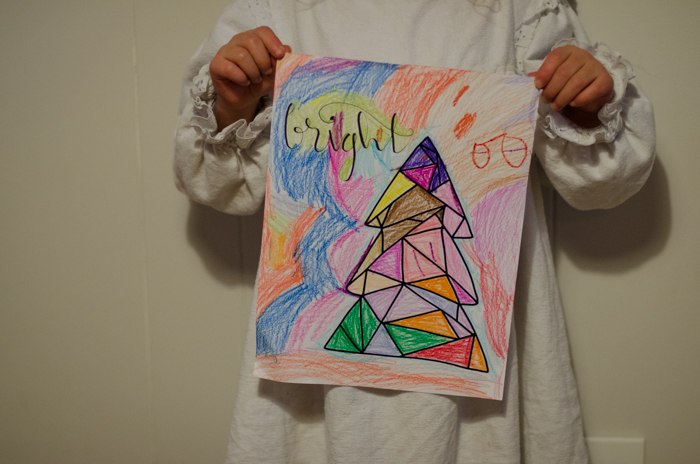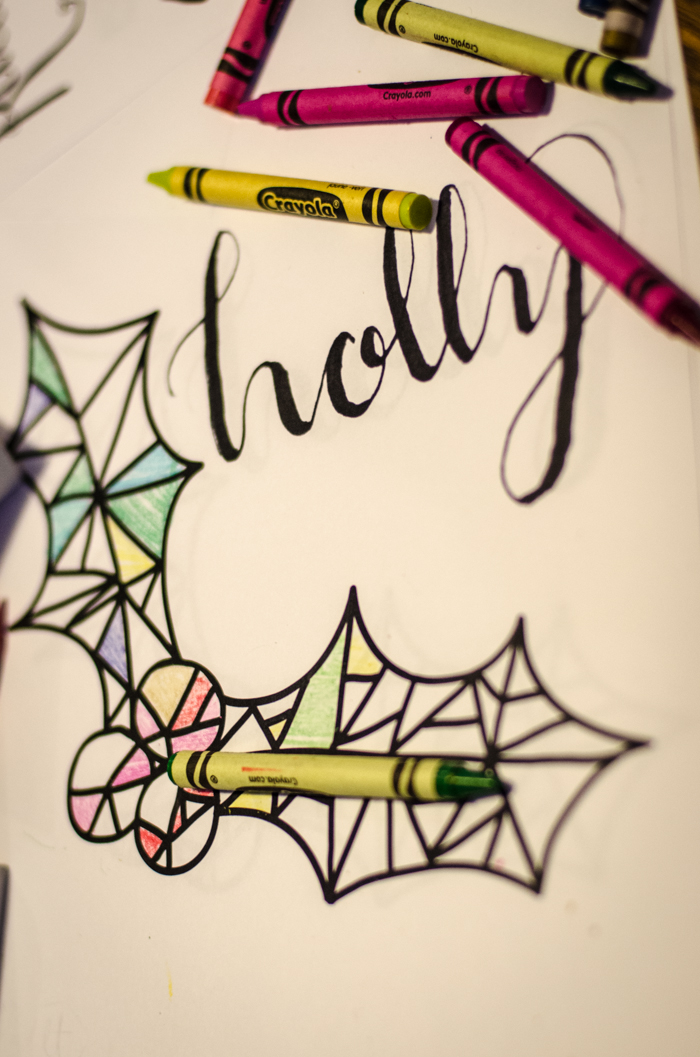 Back to the colouring sheets. They're festive, geometric, and I even tossed in a bit of script. I made up three for you, the tree my beautiful niece coloured above with the script- Bright; the reindeer that my nephew is colouring with the script- Rudolph; and the holly that says… you guessed it, Holly. You can get them by clicking the links below. Maybe you don't have kids yourself or you're not a big colour/drawing fan- if you have kiddos coming to your Christmas Dinner, these would make a great place mat to keep them busy! I also think they would look amazing with watercolours.
BRIGHT TREE  /  HOLLY  /  RUDOLPH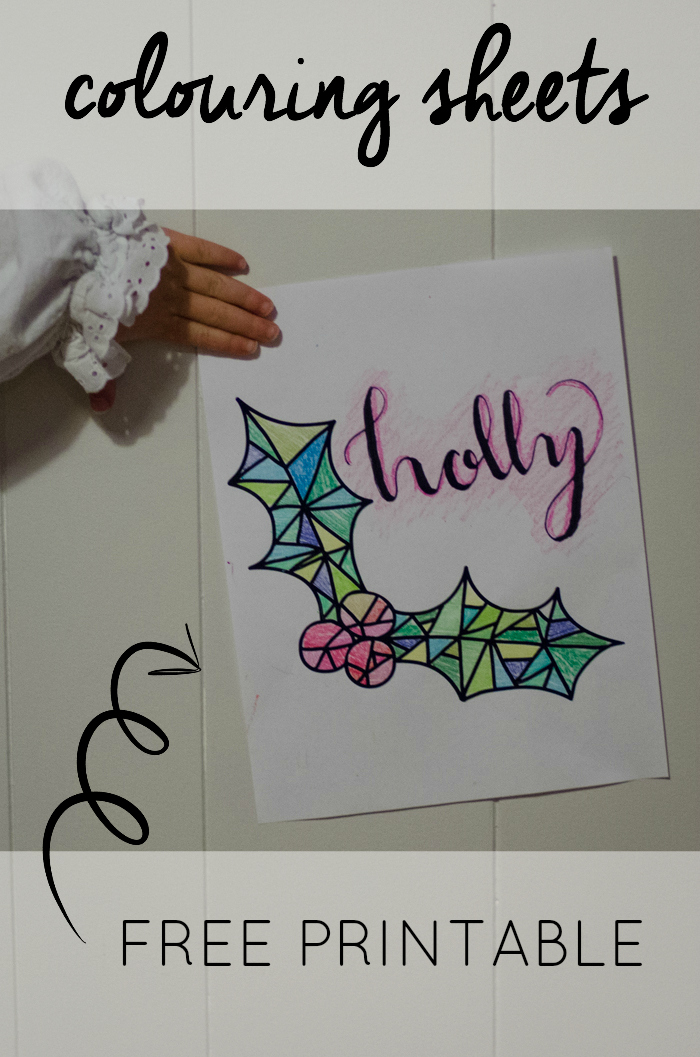 Do you doodle? Have you always thought it was time wasted too? I challenge you to think differently this week! And tweet a lot to help raise some moolah please and thank you. And if you do print these out for your kiddos, I'd love for you to share their art with me! @colleenpastoor on Twitter and Instagram.
PS. Also in the news of social media… I'm on Facebook! Finally, right? I've yet to update my sidebar, but if you'd like to follow along you can check out the page here!
Like what you see?
Sign up to receive a once-a-week newsletter from me with new posts, exciting updates, exclusive discounts and freebies. Just good stuff!